The club has a 4 group running system on club nights : steady, steadfast, stamina and speed meaning there are running groups for all abilities and nobody gets left behind. There are also two Couch to 5k courses per year to encourage and welcome those new to running and on the other end of the scale regular long runs aimed at those looking to complete marathons and ultras.
Having now been running with RIOT for a while and I can definitely say the emphasis of RIOT is very much on fun. You can participate as little or as much as you like in the fun challenges that engage even the most novice of runners, sure there is the focused speedy group but you don't have to get involved with them unless that's your thing.
In summary if you are looking to run for fun with the potential to challenge yourself further then come along and give RIOT a go after all
RUNNING IS OUR THERAPY!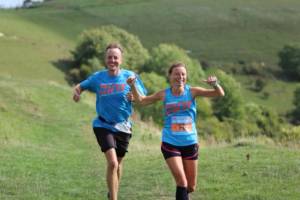 our history
Where it all began
Just over a year ago a little running shop opened in Poundbury, Running Free started its first organised run sessions in January 2017 with just a handful enthusiastic and dedicated runners coming along to test the waters, they loved it. So they told their friends, who also loved it. You get the idea… So fast forward to November 2017 when that enthusiastic handful decided it was time to make it official and start Dorchester's first ever mixed affiliated run club and in January 2018 Dorchester RIOT was born.