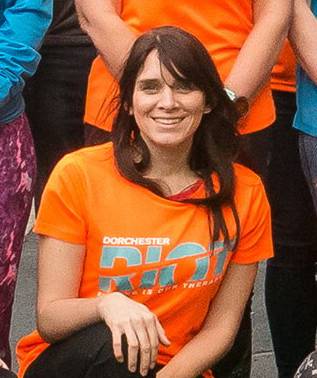 I've been running with some of the Dorchester RIOT team since January 2017 when I plucked up the courage to run with the Running Free Crew on the first run (I'd always run by myself before this). Since then it has been exciting to be a part of the process of building RIOT and watch the club evolve and grow from just four runners in January 2017 to one hundred as I write.
I've been running on and off for many years but it has turned from a chore and something I did to keep fit (and justify my cheese intake) to something I now enjoy and look forward to, even the bad runs (let's be honest we all have them) have their place. I value the support network you get from being a part of RIOT, from sharing advice, to talking about running shoes, from meeting new people to share the long early training runs with right through the cheering at the finish line of events.
As a big fan of trail running my favourite place to run is along the South West Coastal Path, I love the challenge of the run and beauty of the coastline, I'm also known for my fondness of hills and the trails are full of them. As someone who is slightly competitive I enjoy our unique RIOT team challenges and I am partial to a friendly Strava segment battle now and again.
As the Club Secretary my role isn't the most exciting one to outline but it involves behind the scenes admin; writing minutes, organising meetings, writing club documents and assisting with memberships. I sometimes help lead the stamina group and like leading trail runs at some of my favourite spots.
'Done more running and challenged myself more than I ever thought I could thanks to the RIOT challenges and support of the people running them'

Lou Knapper