welcome
be one of us
We're a passionate new running club and have just celebrated our first anniversary! We started on 1st January 2018 and we meet every Thursday night. We have 4 groups and cater for every running level, our mantra being 'no one gets left behind!' every group has a lead and a tail runner to ensure we stay together and look after each other.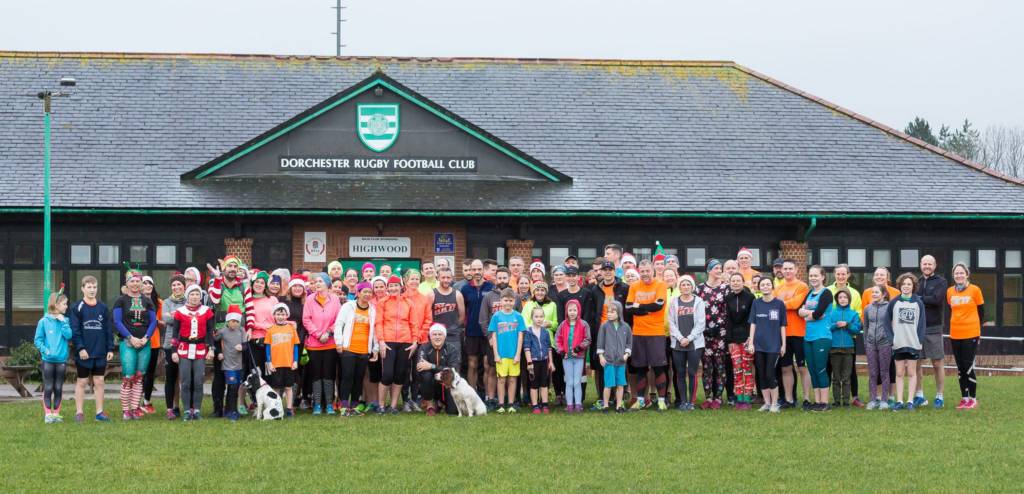 We also run a Couch to 5k twice a year, a 12 week programme finished with a celebratory Graduation Parkrun in Weymouth where the RIOT cheers can be heard far and wide.
We'd love you to be part of our running club so why not drop us a message or visit our facebook page, we'd love to hear from you?
when
we meet
Tuesdays / speed and hill sessions / various locations / 7:00pm
Thursdays  / Group Run / Dorchester Rugby Club / 7:00pm
We also arrange group swims, cycle rides and Sunday long runs. Contact us or  join our Facebook Group for information on our latest sessions.
You are free to take part with no commitment necessary on our Thursday night club runs, however there is a joining fee to pay if you'd like to join us on the more specialised group runs.
To keep up to date with the latest run club news and schedule, join our social media groups
Want to know more and how to become a member?
Join us
what's new @ RIOT?
news updates
RIOT
WHAT MAKES US UNIQUE
We run in some of the most scenic routes in the South of England

Test your progress against the clock with our bi-monthly 1km Time Trial

Build friendships through running with our quarterly Team Challenges

We don't just run... We swim, cycle and some of us combine all 3!
It's very well organised. Very supportive. Much better over 12 weeks than the 9 week app. Lovely to have found people of a similar pace and to do my homework with. Very much looking forward to park run and steady Thursday night runs now!
Thank you for running it!
A big thank you for Dorchester RIOT for organizing the C25K course. I am so glad l signed up for it. Everyone has been so friendly, encouraging and supportive. I have met a lovely running partner which has kept me motivated doing the homework runs. I feel so much fitter. I have downloaded a C25K app and tried and failed before. I think doing the course over 12 weeks (rather than 9) makes a massive difference. I am really looking forward to the park run on Saturday, completing steady runs next and the RIOT 24 challenge. Thank you
I found everyone welcoming and encouraging. My mind was willing but sadly my body (well my poor old knees) let me down. I love my walking and didn't want to jeopardise that so had to withdraw after just a couple of weeks. Meanwhile, my amazing husband, who signed up to give me moral support and keep me motivated, has gone on to make it to the end. So proud of him and what he has achieved.
Thank you so much to everyone involved with RIOT for all the support and positive words. I never ever dreamt I would be capable of running for over 25mins but did so last Thursday and again yesterday evening even in the dark and wet! I have met some great people and actually enjoyed my runs however hard going they were. Thank you to all the other club members for the friendship and words of encouragement. For anyone thinking of joining next time I would say go for it- if I can do it then anyone can!
Firstly I'd want to say thank you to Dorchester Riot for putting on this course and for all of your support and guidance over the duration it has been absolutely amazing 👋
I had previously attempted the C25k this time last year with DR but failed to complete due to work commitments and going away so missed the graduation and failed. This C25k has been completely different from the off set I have really enjoyed every minute of it and have a new outlook to running, as you have always said the key is the homework so true!
At the start I was really nervous about turning up on my own but I shouldn't have worried as everyone is so friendly and welcoming. Additionally I have met an amazing running partner, Claire, who is just as enthusiastic as me; in the the last three weeks she has been fantastic and helped me over come time of after flu/chesty, before I would of just given up - slight panic yesterday thinking I wouldn't be able to do the graduation but today with Claire we have smashed it and I am now looking forward to running at the park run and continuing with DR 😀
Without DR none of this would have been possible and I cannot thank u enough!!
The kindness, organisation, support and encouragement has been just amazing, everyone is so friendly.
I have found the last 12 weeks both tough at times but incredibly rewarding and I am so proud I have stuck with it and I know that I have improved at million percent more that I ever would had I of tried to do this on my own!
Thank you Riot crew for helping me fall back in love with running. I would definitely recommend the C25k with you guys, the support and encouragement has been amazing. Look forward to the next chapter 😍
Thank you to Amy C Mason, Paul Danbury and all other RIOT peeps involved (of which there are many)....for the past 12 weeks and today - who'd have thought it when we all pitched up in January that Thursday evening runs could actually be something to look forward too and at how far we'd come in such a short period of time!
Great morning at parkrun today - the support and encouragement from all was fantastic....looking forward to stepping out with RIOT officially in the 7pm Thursday slot! Xx
Thank you to Amy C Mason & Paul Danbury for hosting the riot C25k group, along with all the helpers. Such a lovely bunch of people. Look forward to joining riot and enduring some of the challenges 😂 x x
Thanks you to all at Riot for the help and support over the last 12 weeks we would never have achieved it without you.
This error message is only visible to WordPress admins
Error: No posts found.
Make sure this account has posts available on instagram.com.