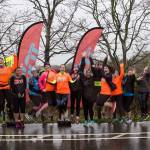 Our 5th edition of the Couch to 5k is now open and we are really looking forward to having a brand new group of RIOTers running around!
We will be meeting at Dorchester Rugby Club from 9th January every Thursday at 6pm
Don't be shy, come and join us, we're a friendly, social group who want you to love running as much as we do! We spend our first few weeks at the Rugby club to get your confidence up so don't be afraid, no one gets left behind! We will have a private Facebook Page where we will post weekly homework, you need to get out at least twice a week for the best chance at success and the group means you can arrange for people to get out with gain that bit of encouragement when you don't feel like it and celebrate your successes!
Our main celebration will be happening on Saturday 4th April at 9am when we will be having our Graduation Parkrun so be sure to keep that date free!
Still not sure? Have a little nose at our Facebook Page to see what we're about or drop us an email and hopefully we can set your mind at ease.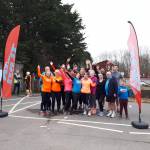 Testimonials from our most recent graduates:
It's very well organised. Very supportive. Much better over 12 weeks than the 9 week app. Lovely to have found people of a similar pace and to do my homework with. Very much looking forward to park run and steady Thursday night runs now!
Thank you for running it!
Thank you so much to everyone involved with RIOT for all the support and positive words. I never ever dreamt I would be capable of running for over 25mins but did so last Thursday and again yesterday evening even in the dark and wet! I have met some great people and actually enjoyed my runs however hard going they were. Thank you to all the other club members for the friendship and words of encouragement. For anyone thinking of joining next time I would say go for it- if I can do it then anyone can!
Firstly I'd want to say thank you to Dorchester Riot for putting on this course and for all of your support and guidance over the duration it has been absolutely amazing 👋
I had previously attempted the C25k this time last year with DR but failed to complete due to work commitments and going away so missed the graduation and failed. This C25k has been completely different from the off set I have really enjoyed every minute of it and have a new outlook to running, as you have always said the key is the homework so true!
At the start I was really nervous about turning up on my own but I shouldn't have worried as everyone is so friendly and welcoming. Additionally I have met an amazing running partner, Claire, who is just as enthusiastic as me; in the the last three weeks she has been fantastic and helped me over come time of after flu/chesty, before I would of just given up - slight panic yesterday thinking I wouldn't be able to do the graduation but today with Claire we have smashed it and I am now looking forward to running at the park run and continuing with DR 😀
Without DR none of this would have been possible and I cannot thank u enough!!
The kindness, organisation, support and encouragement has been just amazing, everyone is so friendly.
I have found the last 12 weeks both tough at times but incredibly rewarding and I am so proud I have stuck with it and I know that I have improved at million percent more that I ever would had I of tried to do this on my own!
I found everyone welcoming and encouraging. My mind was willing but sadly my body (well my poor old knees) let me down. I love my walking and didn't want to jeopardise that so had to withdraw after just a couple of weeks. Meanwhile, my amazing husband, who signed up to give me moral support and keep me motivated, has gone on to make it to the end. So proud of him and what he has achieved.
Thank you Riot crew for helping me fall back in love with running. I would definitely recommend the C25k with you guys, the support and encouragement has been amazing. Look forward to the next chapter 😍