Most runners have a love hate relationship with hills, we love to moan about them and go out of our way to avoid them but secretly I think every runner loves nothing more than conquering their latest "hill". Most road races are fairly flat, but I guess you don't need to be the sharpest pencil in the case to realise any run on the rock that is Portland is going to have its share of hills, and the Portland 10 did not let us down!
The Portland 10 road race is described by the host the Royal Manor of Portland Athletics Club (RMPAC) as follows:
In 1980 three bored sailors stationed at the Royal Naval Air Station came up with the idea of a 10 mile race on Portland, the cost was 40 pence to enter! Today the race has developed into a testing 10 mile route that will see you run a lap and a half around the top of the island, from one end of the island, Portland Heights Hotel (385 ft), to the other, Portland Bill (30 ft). The route is undulating, on tarmac roads and pavements and goes through built up areas as well as following long stretches of coastal roads.
Now the key words to take from that description are testing and undulating which every runner knows is running speak for hard and hilly ….. they weren't kidding and for 2018 you can add hot and muggy! You know the kind of heat where you should be in or near water eating ice cream!
So, four rioters of fairly sane mind signed up for slightly more than the 40p, I might add, to run around the isle of Portland on what turned out to be one of the hottest days of the year. Now these affiliated road races can be quite serious affairs with most running's clubs turning up on mass from all over the county with their game face on looking to pick up points or prizes. Well that is not really what RIOT is all about so with all the professionalism being exerted at the starting line by the big running clubs with them doing little group jogs to warm up and stretch and everything, us rioters felt a little bit like the odd ones out and quietly kept to the back of grid chatting and joking. So much so we nearly missed the start! One minute there was race brief, next minute we were off! No stretching or warming up for us hardened rioters.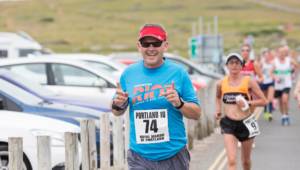 Being hilly, the first couple of miles are very much all downhill to Portland Bill and I am pretty sure most runners take this first stage way too fast, but are rewarded with a fantastic view of the light house and the sea beyond. On arriving at the bill feeling like a proper athlete we were greeted by the now familiar lenses of the Dorset bay photographers. Now at this point any illusion that this going to be a "fun" run is quickly dashed when you turn around at the bill to run up hill all the way to Easton and then on uphill to Portland heights. It is in this section where I could almost hear every runner saying to themselves 'I am not a runner', and 'could it be any hotter?'
I can honestly say I have never heard so much heavy breathing out on the course there was no air. It was like mother nature had sucked it all away from the course just to make it a bit more uncomfortable in the heat. After the long slog up to Portland heights, where some runners had resorted to walking, you get the joy of going all the way back down; this time if you are sensible you don't fly down this section quite so fast as you have now convinced yourself you are not a proper runner and that you have that long drag from Pennsylvania castle to Portland heights to do again on lap two. Strangely the hill is not quite so bad the second time as you realise that the end is near! From the second passing of Portland heights it is once more on the fast roller coaster downhill to the finish surrounded by even heavier and at times scary breathing to be met once again on the last 100 meters by the lenses of Dorset bays whose presence spurs you on one last time to run like the athlete you know you really are.
With a nice medal and watermelon, the finish is pleasant experience and us small gang of Portland 10 first time rioters met up once again to talk all things running, heat and conquering hills until the draw of the ice cream van could not be resisted.
This is the first time RIOT have been represented at the Portland 10 road race and I am sure there will be more of us next year, you never know one or two of us might take it seriously and warm up and stretch a bit. If you like your running hard and hilly which I suspect secretly most of you do, we would recommend you join us next year when hopefully there will not be so much heat and scary breathing and we can run like all the proper runners do!
Finally, big shout out to RMPAC who were great hosts and managed / marshalled what must have been a logistically challenging road race and Dorset Bays who took some great shots on the day which really do make you feel like professional athletes.
Author: Malcolm Curtis