Our next Awards Night is approaching, which means it's almost time for current Woman and Man of Steel Shelley Carter and Malcolm Curtis to hand over the coveted batons.  Before then though, we spoke to Shelley about her experience at two popular local events; here's her race reports on the Osprey Sprint Tri and Weymouth Half Marathon!
Bustinskins Osprey Sprint Triathlon
First up, 12 metres of the swimming pool felt amazing.  Transition was very strange, but after drying myself and preparing for the bike leg, I then rode up the hill to Portland Bill with fast people racing and over taking me.  Despite this, I was very calm and took my time to complete the 10 mile ride to back to Osprey, heading back to transition before the run leg.
Entering transition I dismounted off my bike, walking forward I then fell over on top of my bike!  All the marshalls were amazing and came to help, I was embarrassed but the adrenaline kept me going.  I racked my bike and took my coat off to then start running for the 5k run, runners heading back to the finish line and everyone passing saying well done.
I was feeling very emotional by this point, then realising I was the last person running and the tail runner was encouraging me all the way back to the finish. I smiled at the camera and crossed the finish line finishing last place, but today I completed my first triathlon, and I look forward to seeing what the summer months bring for my next adventure into the world of tri 👌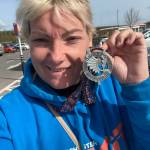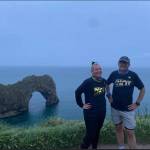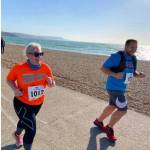 So the night before the race I put massive pressure on myself to get a pb…  Race day I'm at the start line feeling tired so I say to myself, actually I'll just finish, then my husband Gez said he will pace me to get a pb.  The only answer was "yes let's do it!!!"
Mile 7 I felt like I was never going to make the finish so decided to just keep chiselling away at the miles.  Then came mile 10 on the Rodwell Trail when I thought "YES I got this only park run to go!". Gez is still in front of me wanting me to keep up so I push and push , then mile 11 my feet started to hurt and my emotions started to get the best of me… My eyes started to well up and my feet were hurting when Gez then turned around and said "I'm proud of you, you're smashing this".  Something inside me said I don't know how the hell I'm doing this, but at mile 12 something positive came over me and I managed to find the very last push I had in me to keep on going.
All the emotions were still there as I turned the corner to a mass group of rioters cheering COME ON SHELLEY who brought more tears to my eyes.  As I turned the next corner the finish was in sight, with more encouragement coming from Gez, telling me if I keep going just that little bit further I'd have smashed my personal best.
And then the finish… and all the pain went away… well not quite!  But I really did dig deep and dug deeper and actually achieved what I set out to do.  Now I'm on could nine buzzing, I have achieved the result I wanted, proof that anything is possible with the right support and belief.
I can't thank everyone enough for their support of the course that day, one very proud lady 🤩
Thank you for sharing your experiences Shelley.  Both you and Malcolm have been great representatives of the club over the last two years and we can't wait to see what's to come!