With the end of the year drawing close you'd be forgiven for thinking that our members may have been winding down and enjoying a quieter month.  In reality, December was just as busy as ever with our members achieving PBs, new distances and completing virtual challenges.  Below are just some of the highlights we've spotted over the last 31 days…
December saw the return of our flagship event, Festive 24, and this year 67 members completed all 24 runs to earn the coveted bauble medal.  24 runs weren't enough for some however, with both Mark Stockman and Clive Scammell going that bit further and completing 31 consecutive days of running.  The challenge also spurred Claire Carlin on to complete 2 runs a day across the 24 days, and Dee Brooks combined 24 runs with 24 sessions on the turbo.  Fantastic work!
The intense Phoenix 12 and 24 events took place again this month where runners had to run every hour, on the hour, for either 12 or 24 hours.  Special mentions this time around go to Wendy Britton for completing 63 miles during the day, and Andy Mutter for ticking off an impressive 100 miles in less than 24 hours.
In a year where international travel was limited, we knew we could rely on Chairman come pilot Martin Mustoe for some RIOT Tourism!  As part of the F24 challenge Martin completed one of his 5k runs within the boundary of JFK airport!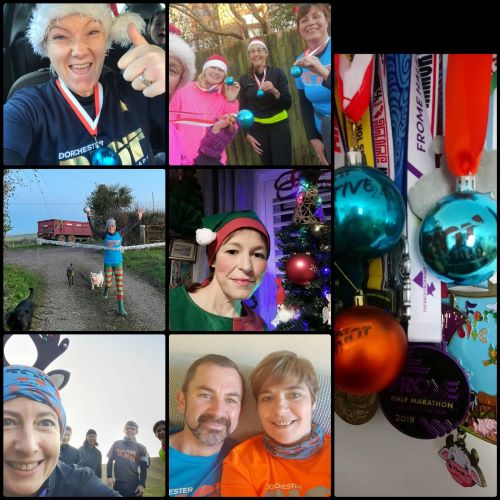 If nothing else, this year has highlighted the important part running plays in improving our mental health and I'm sure we have all felt the benefits at some point.  One of the charities with mental health at their core is Dorset MIND, and our very own Dee Lewis and Samantha Mercer raised money for this important cause… whilst dressed as reindeer!  They coupled it with a food bank drop off too – well done ladies!
Boxing Day is often a day for leftover turkey sandwiches enjoyed on the sofa, but for Matthew Stear it was the day he earnt a new marathon PB!  Matthew is in the midst of training for a prestigious event in 2021 and we look forward to seeing his training progress in the new year.
This month also saw one of our member's efforts recognised by their place of work.  Mark Stockman works within the Financial Management Department at Dorset County Hospital, and was this month awarded a DCH Hero prize for his involvement in setting up and running a Couch to 5k group for hospital staff. Well done Mark!
Both Emma Chutter and Claire Carlin finished the year with new 10k PBs, and Bill and Wendy Britton completed their first ever sub-2 hour half marathons!
The end of the year also saw yet more members hit impressive running milestones:
Both John Bills and Andrew Scowcroft clocked up 1000 miles.
Mark Stockman crossed over the 1400 mile mark.
1500 miles were completed by Mark Brown and Bella Lowis.
Andy Mutter completed an absolutely incredible 3000 miles! (Yes, in just one year!)
What a month we have had.  I am really enjoying highlighting the many achievements of our fantastic members over the last few months.  Every month I am blown away by just how much you all cram into one short period and I am already looking forward to what we all achieve in 2021.  Here's to another fantastic year running RIOT!