April was the month dominated by the marathon and this blog will cover those in April and May, in the interests in trying to keep this as concise as possible it is rather marathon dominated, but please visit our Social Media pages (Facebook Page, Instagram, Dorchester RIOT Group Chat Facebook Group and members Strava Club) to see some of the other great achievements from our club. As always, apologies if we miss anything or anyone, just give us a shout if there is anything you wish to bring to our attention.
An update from your committee…


The Adventure Race 2 is fast approaching and you have just 10 days to sign up if you want to take part as teams will be announced at the club run on 16th May, we currently have an amazing 45 RIOT runners taking part!  This event is slightly different to races you are used to, being about collecting points, planning and tactics rather than the fastest. The event is held in the beautiful countryside, but the location will be revealed one hour before the start time on Sunday 19th May.  The race begins at 10am and finishes at 13:30 when there will be a bbq (non racers can book through the website for the bbq), there are rumours that The Smiths are bringing down their legendary millionaires shortbread and Rosie a cheesecake.
Membership Renewals are coming in thick and fast, thank you all for continuing to support us! However if you have not yet renewed and wish to then please visit the membership page. Everyone will remain a member until 30th June, at which point your membership will lapse.
Resilient Runner workshop: want to learn more about how to prevent injury and run more efficiently? Well, we still have some spaces left on a RunTeach Resilient Runner Workshop on Saturday 8th June (11-5pm).
RIOT Cyclists: Recently more and more RIOTers have been trying two wheels so we have set up a separate Facebook group for cycle related chat so we can arrange cycle rides, talk bikes and events.
What have RIOTers been up to in April?


Where March was the month of the half marathon, April (and the start of May) was the month of the Marathon.  There have been many first time marathoners smashing their first 26.2 this month and others getting amazing PBs, all as a result of a winter of early mornings, dark, long runs in the rain and cold, we are very proud of everyone who completed the distance and am sure they have inspired lots of other RIOTers.
Brighton was first up, with first time marathoners; Dee Brooks, Eleanor Rollett, Mel Orchard, Paul Pomeroy, Tony McDougal, George Peters and David Lewis running the 26.2 along with Steve Stone, Matt Ings (who almost won the "most fueled marathon accolade" until Rob's NDVM marathon in May), Wendy Britton (first marathon event!), Malcolm Curtis, Sally Miller and Rachel Jones. Massive congratulations to all for completing this event, complete with tough headwind, but special mentions to all those who got marathon PRs along with Mel Orchard who gritted through solo long training runs and was rewarded with a well-paced sub 6 to be proud of, Dee Brooks who battled through injury to get sub 5, Paul for achieving his sub 5 target, David and George for sub 3:45 and Eleanor who should get a Good For Age London place for her run. In addition to the inspirational marathons we can't write about Brighton without mentioning the brilliant support crew, who spent more time on their feet than the runners in the cold wind to cheer us on and give us all a boost, it's no co-incidence our paces picked up in mile 12 when we saw you, you won't know how much you helped.
I don't know if you noticed but on Sunday 27th April there was also a marathon in London! We all were on tenterhooks tracking our runners. There were lots of first time marathon runners all running for worthy causes; including; Amy Mason, Paula Fry, Clare Bushnell, Reuben Elcock, Sarah Dunford, Hayley Gould and Chris Gould, Though each and every one of you did yourselves and the club proud, special mentions to Amy, Clare and Hayley who, ran perfectly paced marathons (Amy "never, ever, again" Mason is now signed up for another),  Sarah Dunford achieved a great marathon time after all her training miles and Paula gritted through niggles and smashed both her marathon and fundraising targets. Well done also to our second claim members and multi-marathoners, Chris Monteith, Sharon Mitchell, Kim Bryerley and Frances Johnson who all ran great marathons and thanks also to the Mustoes, Carters, Lauren and Karen for cheering on our runners at the event!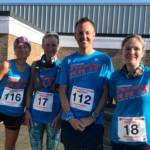 May brought along the Southampton Marathon, well done to Malcolm Curtis for completing his 12th marathon, Mark Stockman achieving a sub 4 on his first 26.2 and Karen Croad for completing the the half marathon. On the same day a group of RIOT runners took to the roads of Dorset at the North Dorset Village Marathon, with Vicky smashing her first marathon, special mentions to Chloe who was rewarded with a PR after her training (despite blister stops), Delia Carr for a sub 3:45, age category prize and London Good for Age place, Steve Stone who ran a 3:33 marathon PB just 3 weeks after a 3:43 PB at Brighton and Rob "most fueled marathon" Kirkpatrick  who ran a sub 4 PB after completing his first marathon in March.
Riding, Swimming and Running is our therapy: Not all of the months achievements involved two feet but some two wheels and water. Paris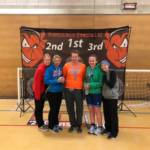 to Munich wasn't enough for Michael Paulley, who completed a big challenge, cycling from London to Paris! Well done to Delia, Martin Smith, Paula and Debi Kingman for their cake eating and cycling at the New Forest Sportive events and Rosie Pomeroy who smashed a duathlon, two days after a rather late RIOT night out! Finally, through the winter another RIOTer, who is already an amazing runner, has been training hard in both cycling and swimming so she could complete her first Triathlon – big well done to Libby Foxwell who joined other RIOTers to smash her first Sprint Tri, along with Mark White who also completed his first.
Sunsets & Time Trials: We are loving the light evenings and taking our Thursday night runs on to the trails, this seems to have led to an unofficial "best Maiden Castle sunset shot" competition and some amazing images, with photos from Helen, Sofia and Olivia as top contenders so far! You'll be pleased to hear that the lighter evenings have also brought the return of the time trial, at the first trial Peter Smith knocked the most of his 2018 time and there was some inter-committee rivalry with Paul Danbury going into retirement after beating Rachel Jones by one second. Well done to those from every group that came down, braved the trial and set a benchmark, it is a tough 1km, but we hope this helps you see improvements as you run over the summer. Time trials will be the last Tuesday of the month, 7pm at the Rugby Club.
Other Special Mentions: The Abbotsbury eventide races attracted many of our RIOT runners, including Kerri McTaggart and Zoe Rolfe, two of our recent c25k graduates who chose this hilly, dusk race for their first event and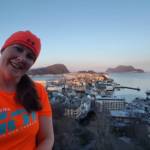 Danielle Bushnell who "hates trail" but completed this as a second trail run within the space of a few days… could you be a convert? Well done to all that ran, swum or cycled, this month but special mentions to second claim RIOTers Brian and Lucy who completed the 56 mile ultra, the Dorset Giant, Claire and Nick who ran the very hot Bournemouth Quarter, Scott Southgate and Paul Munford for completing the hilly Beyond Jurassic 10km Trail event, all those who ran in the Piddle Brewery 5km and enjoyed some ale along the way, and lastly Mark White for completing another amazing solo marathon up to Hardy Monument then down to Portland Bill. RIOT Tourist of the Month  goes to Sofia Carter for her RIOTing in the picturesque Ålesund, Norway.