This is quite a long blog – you all have been exceptionally busy! We have picked some of the club highlights that we've spotted on results pages, Facebook and Strava,  apologies for anything we may have missed. As always, please join the members Strava club and RIOT Group Chat Facebook Group and follow the Instagram feed and Facebook page to stay up-to-date with many other achievements.
An update from your Committee


Our RIOT Couch to 5km Group are doing amazingly, persevering through all sorts of weather conditions. They now only have four weeks left until they graduate on Saturday 30th November at Weymouth parkrun, where we also hope to be taking over the volunteer rota.
Once we have our place confirmed, we will begin collecting names of those interested in the club London Marathon place. We will be in touch with all England Athletics affiliated members in due course with details.
Just in the nick of time with all this rain, we now have RIOT cycling and running coats available to order. Samples will be available to view at the Rugby Club on a Thursday night. We also have Race Calendars in preparation so you can organise your 2020 running events, these should be available in the coming weeks.
Dorchester RIOT have joined the Dorset Road Race League for 2020, three eligible races; Broadstone quarter, Blackmore Vale Half and Lytchett 10 are already open for entry, for more details please visit the DRRL website.
A reminder when entering events or setting your parkrun name to put it as "Dorchester RIOT", there are a few variations on this floating around.
Last, but not least, we've some exciting "Save the Dates" coming up for 2020, keep your eyes peeled…
What have RIOTers been up to in October?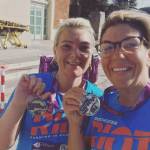 October kicked off with a busy weekend at the Bournemouth Marathon Festival, with RIOT running at a range of distances. Congratulations to everyone that took part in all events, but we want to make a few special mentions; Shelley Carter was rewarded for her months of hard training (even forgoing a night out so she could do her Sunday long run!) by smashing her first half marathon with Sadie Mitchell, we hope this is the first of many for both of you! Well done to Mark Brown for achieving a sub four marathon, Simon Exon for completing his first 26.2 and to Karen Croad and Andy Davidson who felt that the 5km and 10km weren't enough, and decided to add the Sunday half marathon, bringing home three medals over the weekend.
RIOT went on tour to Portsmouth for the 10 mile Great South Run, well done to everyone that took part in the event, there were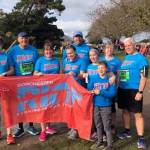 some amazing 10 mile runs! However, we want to acknowledge a few special achievements; Martyn Oliver, founder of the Ridgeway 20, got a 10 mile PB at this event, a well-deserved testament to his hard work.  Melanie Orchard who not only picked up a 10 mile PB but also a 10k PB as she sped round, and well done to Lauren Roberts and Esther Ward who both smashed the 10 miles on their first time running this distance. Lastly, Rosie Pomeroy, renowned for the support she gives at many finish lines had the role reversed at GSR as she achieved her furthest running distance, supported by Carly and Martin Ings (and carrying the biggest blister known to man), I think everyone at RIOT was behind you that day, giving you back some of that support you've dished out and we hope you felt it.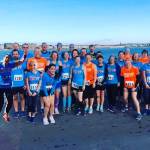 RIOT was out in force at Weymouth 10 where we had over 30 RIOTers taking part! That included some tackling this milestone race distance for the first time including; Anne Woodruffe (after saying "never again" following the Dorchester Dash!), Zoe Rolfe (who also smashed her 10k PB), Claire and Paul Carlin and Simon Fowler. Many also got PBs, not only for 10 miles but other distances too, on what is a tough course, including; Alanna Wrixon, Chloe Morley, Stephanie Woods, Katie Beasley, Debbie Wiltshire, Emma Tonkin, Peter Knight, Paul Gardener, Tina Usher, Rebecca Bradley, Shelley Carter (just two weeks after the half marathon!!), congratulations also to Chris Peck for his second place. Many RIOTers wanted one last triathlon before the winter, and took part in the Bustinskin Osprey Sprint. We were proud to see some RIOTers take on their first;  Christina Guppy and Gunnleyg Archer, and hope you'll be signing up for more. Well done also to El Rollett who won her age category, Helen Timms, Samantha Mercer and Sally Miller who also added another triathlon to their belt!
There have already been some accounts of the RIOT trip to the Alps for the Trail du Petit St Bernard or the "Little Dog", so we won't go into too much detail here (but here's a shameless plug of my blog). However, we can't let the October blog go past without acknowledging the achievements of all that took on the challenge, but in particular, Andy Mutter, Malcolm Curtis, Stephen Horsler, Tamsin Horsler and Mags Goddard that completed the 25 miles and almost 8000ft of elevation gain in this tough event.
RIOT 230 Challenge!


If you had been out and about on the streets of Dorchester in October you may have observed some strange activities. Including runners chasing down supermarket lorries and yellow cars, running into the sea, or round Maiden Castle dressed as a French Maid! This was all part of our October challenge,  "the 230" where 16 teams of four ticked off daily mileage to complete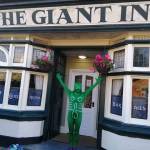 230 miles in 19 days.
After the 2018 challenge where Paul Danbury was almost fated to wear the infamous tooth costume forfeit, he was desperate to come up with a twist to avoid another near miss and suggested adding a daily photo challenge for bonus points.  We plotted and schemed, some photo challenges were a little easier (selfie with a team mate), some harder (selfie with a cat – a whole cat) and some were fun (a hunted game on the streets of Dorchester, or a pub advert).
However, for us, the highlight of this challenge was the community aspect you all got behind, 16 Christmas boxes for the homeless were donated to a local appeal, you picked up litter from the streets and dropped off food and toiletries to local food banks (we even made the Echo!), thank you to you all. Well done to the winners, Team 16; Chris Gould, Jo Brookes, Paul Pomeroy and Bill Britton who received an infamous orange twirl cheesecake (thanks Rosie), and commiserations to Team 2, Kirsty Eveleigh, Laura White, Louise Hole and Paul Carlin (big thanks to Paul for being a good sport and wearing the tooth for a five mile stamina run!).
Running Scared is Our Therapy: As club run fell on halloween, some RIOTers donned their best fancy dress for the run. There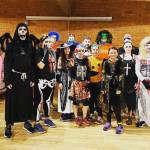 were some fantastic costumes; witches, skeletons, zombies and pumpkins and choosing a winner of the fancy dress competition was really tough. However, we felt Mark Brown scoops the prize for best fancy dress for his vampire costume (and extra kudos for then running in speed group with a cape), though Martine Smith and Lucy Wyman were both worthy runners up. Some prizes will be available on Thursday night!
Special mentions: Delia Carr who came fourth lady in the Gold Hill 10k (read her race report here), the day after coming first lady at the Bustinskin Kingston Maurward by Night 10km. Simon Fowler for third place at the Kingston by Night 5km, and all others who took part in the night events in horrible weather conditions (Frankie, Ali, Julie, Martyn, Janet, Dee, Sam, Keith, Rob, Jane and Emily). Martin Smith for 2nd place and Kirsty Eveleigh for 1st place at the Kingston Canter 5km event. George Peters for achieving a sub 3:30 at Amsterdam Marathon. Anne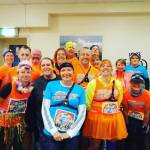 Saunders for winning an age category prize for the Purbeck Trail series. All those that turned up and ran or marshalled at the very soggy Dorchester Dash round Maiden Castle. Dave Parry for his CX biking achievements and second place. Brian Fields, Matt Beaven and Alex Door for amazing marathon times at Abindgon. Lastly, to those that took themselves out of their comfort zones in terms of terrain and / or distance to complete the Stickler, including; Katie Smith, Peter Smith and Marc Forsythe, to Rob Kircher-smith for completing it in under 90 minutes and Bella Lowis for coming 10th in her age category.
parkrun: Well done to those that got PBs at Weymouth, Blandford or Upton parkrun this month, including; Peter Knight, Tara Knight, Robert Lavendar, Clive Scammell, Holly Harris and Martin Smith and to Martyn Oliver for achieving his 50th! Sorry to anyone we've missed, we search under Dorchester RIOT, so please ensure your club name is correct and up-to-date.
RIOT on Tour: As always, some amazing entries for the monthly accolade, including by repeat tourism offender Martin Mustoe who completed the Celebration Pancake 10k in Orlando, Sadie Mitchell for her tourism in Las Vegas and Karen Roper-Brown for the chilly Chicago International 5km. Our RIOT Tourist of the Month is Dee Lewis who completed a solo 100 mile walk from León to Santiago on the Camiño de Santiago, what an amazing achievement and experience!
If you've made it down this far then well done, it's been a busy month so this is a long blog even by my standards. Good luck to all those taking part in events in November!