Wow, we can't quite believe how much our members have achieved this month, from volunteering, supporting, swimming, cycling and running.  As always, we can't cover every event or result in this blog and try and get what we can from Facebook, result pages and Strava, apologies if there's anything we've missed!
The aim of the blog is to give a little selection of what's been going on around the club (please see the Strava Club, Facebook Page, Instagram Feed or Facebook Group to follow some of the weekly event achievements of our members) or let us know if you think there's something we might miss for future blods!
An update from your Committee!


A big welcome to our Couch to 5k group! Three weeks in and they are doing great despite some nasty training weather, a big thanks to those that are supporting the group on a Thursday night. We hope lots of RIOTers will support our graduates on the 30th November at the graduation parkrun where we also plan to do another  volunteer rota takeover.
A few events coming up; firstly the Christmas party, tickets are selling fast and we have less than 20 remaining, get yours here. On November 3rd, we are doing a group run "Run to the Springhead" from Dorchester to the Springhead pub for a roast dinner,  more details will follow on Facebook and Strava.
When congregating pre-run on Thursday please be aware of other Rugby Club users, keep walkways and the doors clear, and be mindful of  vehicles in the car park when running in and out (we know there's a segment there ;-)).  If anyone can help the Rugby Club volunteering as a steward on their 2nd November firework display then let us know.
Sadly, the evenings of light runs are now over, please make sure you are bright, light and reflective on Club runs.
For those that are new to the club, we have an active Facebook Group,  Cycle Group and Marathon Training group (the latter will become more active in the new year when people begin their spring marathon training). If you are not on Facebook, we try to post things in the Strava Club or contact us if you want to know more about any training.
What have RIOTers been up to in September?


What another great month for the triathletes! We kick off with Martin Smith who completed the Brutal Triathlon in Snowdonia, it was brutal by name and nature, starting with a chilly swim in Lake Padam, an "undulating" bike course followed by a mountainous run. This was followed by some great results at the Bustinskin Weymouth Middle Distance and Sprint triathlon, RIOTers also achieved their first taste of tri at the Ladies Langport triathlon, Sally Miller (who also won 1st place), Melanie Orchard, Eleanor Rollett and Samantha Mercer (her 2nd triathlon), we hope this is the first of many…
On to Ironman and Mark White, not content with one 70.3 in Canada, decided to tick off his 2nd, at Santa Cruz after a 3000 mile journey…!  At Weymouth Ironman 70.3, we were proud to see so many achieve great results after all their hard work and in less than ideal weather conditions. Huge well done to those who smashed their first 70.3; Delia Carr, Steve Stone, Kirsty Eveleigh and Paul Pomeroy  alongside Martin Smith, David Lewis, Darren Grummitt and Geoff Wiltshire.  Congratulations to Alex Door and Matt Beaven who sped round their first and qualified for championship places, they will be heading to New Zealand in 2020.  The athletes were not only supported on the way round by some RIOT faces, 35 RIOT members and their families set 5am alarms to volunteer at the Bike Feed Station, supplying the 2000+ athletes with energy, water and bananas. Nine RIOTers also helped on the run station, putting in a long shift in changeable weather. Thank you all for your support and help to bring in some extra funds for the club.
On to the running, and the final weekend of the month brought rain, more rain, hills, pebbles and some strong headwinds, but that didn't stop RIOT members going out and tackling tough terrain along the coastal path at the White Star Running Jurassic Races. Well done to Brian Fields, Andy Mutter, Chris Monteith for their results in the 50k and in the marathon; Jamie Miller, Gerald Carter (who chose this tough event for his first marathon) and Chris Peck (who scooped 1st prize). When many of us were at home and dry, many of our mini-RIOTers braved the weather to complete in the Chaos event!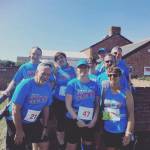 Making the most of the nicer Autumn weather, RIOT runners made appearances at other trail events, Sue Thompson and Wendy Britton both did the tough Purbeck marathon in hot weather and others the Purbeck 16 (more like 17!) which involved some of the finest Hills in the Purbecks.  A special mention to Anne Saunders who won an age category prize at the event and Danielle Bushnell who is not a fan of hills, heat and trail but completed Purbeck 16 AND Camelot Challenge (with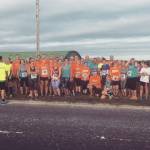 Naomi). Some brilliant running by all at the Hangers Heros races a local charity runs along the Fleet, a special mention to Simon Fowler (2nd place in the 10k), Mark Brown (3rd place in the 10k following a parkrun PB), Liz Elliot (3rd place in the 10k) and Peter Knight (3rd place in the half marathon).  On the theme of trail nice running by those that tackled the Crafty Fox races including;Tamsin Horsler, Bella Lowis, Graham Smith, Steven Horsler, Anne Saunders, Mark Stockman, Rob Scott, Debra Kingman and Brian Fields.
RIOT had a huge turnout at the charity Royal Manor of Portland Dumble Bimble which raises funds for Weldmar, we can't name every result from the event, but there was some fantastic results on a deceptively challenging route and many got event or distance PBs including; Rosie Pomeroy, Martyn Oliver, Steve Hall, Julie Oliver, Lorna Holt, Laura White, Sally Miller, Simon Fowler, Rebecca Pearce, Helen Cooper, Debbie Wiltshire, Darren Grummitt and Paul Pomeroy.
Other Special Mentions


Clare Bushnell for completing the third event in the London Classics series, the two mile Swim Serpentine after she got great results at the 100 mile RideLondon and London Marathon earlier in the year. Dave Parry, Matt and Carly Ings for the 1.2 mile Round the Mount swim – round St Michael's Mount. Paul Gardener who completed his furthest distance triathlon at the Bustinskin Weymouth Middle Distance. A great return to running by Michael Paulley and Andy Davidson at the Great North Run.  Christina Guppy for achieving her furthest distance cycle of 70 miles at the Rotary bike ride. Gerald Carter who came first overall at the Beyond Events West Bay Duathlon.
Eleanor Rollett for winning an age category prize in the White Star Runnings' Wyvern Series. Elaine Pearson for completing the 100k Thames path challenge with her mother for charity. Mark Stockman for 1st place and Simon Fowler for 2nd at the Dorchester Signature House 5k. Louise Hole, Kirsty Eveleigh, Martin Smith and Alex Door for smashing Salisbury half marathon, some amazing PBs achieved. Paul Munford and Anne Saunders for taking on The Beast and Janine Ryan for completing the nicely-named Cream Tea Caper.
There were some great mountain adventures; Gunnleyg and Richard Archer achieved the quad-burning, 22 mile "man vs mountain" event and Chris Monteith who completed an outstanding 63 miles in 23 hours in the Alps at the UTMB event the CCC! We also want to highlight the rowing achievements by Dee Brooks at the Great River Race and Newquay County Rowing Championships.
RIOT on Tour: As ever, there was tough competition for this accolade with RIOTers upping their game month-on-month, we had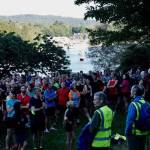 Martin Mustoe on tour in Shanghai, Mark White in Santa Cruz, Jamie Miller doing loops of Gatwick airport and John Bills in the Alps.  But RIOT Tourist of the month goes to Debbie Wiltshire for her thorough parkrun tour, ticking off Cirencester, Fell Foot, Dalby Forest and Higginson parkruns this September.
parkrun PBs: Well done for some great parkrun PBs at Weymouth, Blandford and Upton Country Park by Mark Brown (x 2!), Rebecca Pearce, Lorna Holt (x 2!), Julie Oliver, Sally Miller, Mark Stockman, Peter Knight (x 2), Tara Knight, Paul Gardner (x 2!), Julie Watts, Lucy Wyman, Chris Peck, Paul Carlin and Claire Carlin. (Apologies if we missed any, we try to pick up on them through the month via Strava and then in the results,  if you're first claim to set your club name to Dorchester RIOT to help us find you on results).
Well done to everyone that ran, swam, cycled and took part in events this month, we know there are some big events coming up in October and we're wishing best of luck to those taking part in the Bournemouth marathon, half marathon or 10k, those heading to the mountains or to Great South Run.