---
Looking back on an action-packed month, it would be easy to forget that things hadn't fully returned to normal. There's been so many highlights and achievements by our members we sadly can't mention them all, but here are a few that caught our eye along with some other moments worth mentioning.
---
Our brand new #RunandTalk initiative was kicked off by our very own Mental Health ambassadors Andrew, Rob and Sam, which saw several club runs being flagged as either #RunandTalk or #WalkandTalk sessions. These provided a relaxed environment for our members to exercise and socialise in one. The platform was there for people to discuss anything troubling them if they wished, but even just the chance to have a conversation with someone different would hopefully provide a welcome distraction in what is an anxious time for many.
October brought with it the long-awaited return of our flagship event; The Adventure Race, now in its third year. As dawn arrived, fourteen teams set off and soon found themselves tackling hills, mud, trolls, evading mountain bikers and even encountering "The Alias". Thankfully all forty participants made their way back to HQ in one piece, and it was George Peters, Mark Brown and Mary Godding who were the successful trio in getting their name on the Adventure Race shield. Thanks also to Liz Elliot and her husband for allowing use of their farm and surrounding land which was the perfect base for such an event.
A few highlights…
Well done to Anne Woodruff who, accompanied by Keith Horn, completed a charity 10k event and also achieved a 10k PB this month – well done Anne!
Several members took part in the Phoenix 12 challenge – kudos to Amy Mason, Kerri Oliver, Shelley Carter, Jennifer Mustoe, Karen Flanagan, Sarah Dunford, Laura White and Lorna Holt.
Graham Smith took on the gruelling Exmoor landscape of at the Exmoor Trail Half.
Well done also to George Peters, Anne Saunders, Chris Peck and Paul and Claire Carlin who completed the CapTEN Fell Race tackling some of Dorset's biggest hills.
Marathon Fever!
For the first time in its 40 year history, London Marathon turned virtual and several of our members completed this iconic event. Rebecca Bradley who won the club spot achieved a marathon PB along with El Rollett, and Michael Paulley and Robert Lavender completed their first 26.2 miles. After many years and even more marathons, Man of Steel Malcolm Curtis achieved his long-awaited dream of a sub-4 hour marathon, spurred along every step of the way by Rachel Jones and Dee Brooks.
Well done also to Nicola Rich who completed 26 x mile loops of Puddletown Forest raising money for charity along the way.
A marathon wasn't enough for some however with some of our members entering ultra territory. Gerald Carter completed the Race to the Sea Ultra, covering a distance of 50km from Ringwood to Hengistbury Head and Chris Monteith completed the incredibly challenging Climb South West North Coast 110 – an 110 mile ultra across some challenging terrain provided by the South West Coast Path.
It was a fantastic show of RIOT blue at the Hellstone running event. Well done to the following members who represented the club across several distances: Peter Knight, Kerri Oliver, Keith Horn, Rachel Jones, Andy Mutter, Martin Smith, Mark Stockman, Wendy Britton, Mark Brown, Anne Saunders, Rob Davison and Bella Lowis.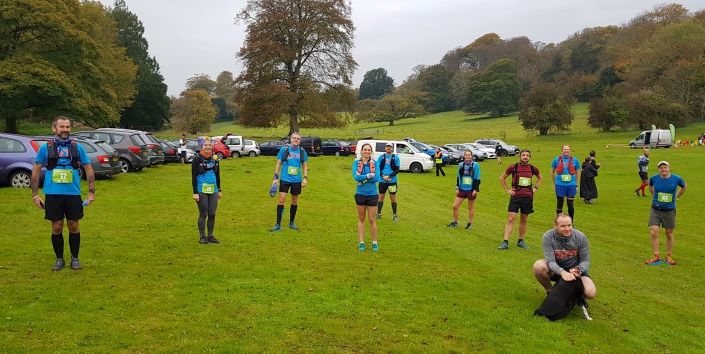 Running wasn't the only discipline where RIOTers were successful this month. Claire and Paul Carlin added another string to their bow with their first duathlon, during which Claire also achieved a new 10k PB. Also on the bike, Reni McPhail and Penny Atkin completed a fantastic loop of the Isle of Wight!
---
Phew – I'm tired just writing about all that! It's fantastic to see so many of you overcoming obstacles this year. Sorry to those I haven't included here, but rest assured your achievements are noticed and spur each and every one of us on to push our boundaries month on month.
November's blog will be out soon and it's looking as action-packed as ever – watch this space!
---