---
As the weather starts to turn and the nights draw in, it's a good time to reflect back on the first few months of RIOT 2.0. With the new committee now settling into their roles, we were able to start looking forward and incorporate the "new normal" into our club.
First of all we were pleased to make a £300 donation to Dorchester Rugby Club with proceeds from Festive 24 as a thank you for their continued support.
We'd like to thank all of those who have volunteered to lead a run session since we were able to restart these. We simply wouldn't be able to offer so many different runs without our generous members, so from the whole club, thank you!
The achievements of our members over the last few months have been plentiful. Unfortunately we can only include a few highlights in the blog but well done to everyone who is starting, continuing or returning to running. 2020 has been a year like no other, but we hope that collectively we can continue to get out and enjoy some fresh air, after all, Running Is Our Therapy.
---
After the successful return of our Thursday night club runs, July saw the return of our Tuesday hill reps and speed sessions, including some popular introductory sessions. Well done to all those who gave it a go for the first time, and are now regular attendees to these training sessions.
The beginner bike rides organised by Keith Horn made people switch two shoes for two wheels and explore some of the many bike routes we have on our doorstep, and naturally it was only right to try out a cake or 2 from the cafes passed en route!
After being interrupted by Covid-19, our Couch to 5k group were able to pick up their training once again, finishing with a graduation run along Weymouth Seafront. This group of graduates really didn't have it easy so please join me in saying well done to each individual who persevered and completed the course, whether solo or with RIOT. We look forward to watching you continue your running journey and seeing where it takes you next.
The RIOT Time Trial returned with a fresh new route taking on the West Stafford Bypass with members choosing either the ascent, descent, or the double whammy! This isn't about who's the quickest, more who has made the greatest improvement. We've already seen some great examples of this so keep an eye out for the monthly results to see who is continuing to knock those crucial seconds off.
Achievements were aplenty with Bill Britton completing his first marathon accompanied by wife Wendy, and Andy Mutter completing an impressive sub-10 hour Café 50. Mary Godding also took on a July half marathon challenge, and achieved not only a half marathon PR but scooped up a 10 mile and 10k PR on the way.
Encouraged by other members, yet more RIOTers achieved a century on the bike; well done to Bella Lowis, Steve Stone, Delia Carr and Helen Timms.
Onto August which saw the return of Rachel's coastal trail runs, kick started by the infamous Pasty Run from the Square and Compass in Worth Matravers (although rumour has it, the summer edition was pasty-less!). This was followed with further runs around Lulworth and West Bexington.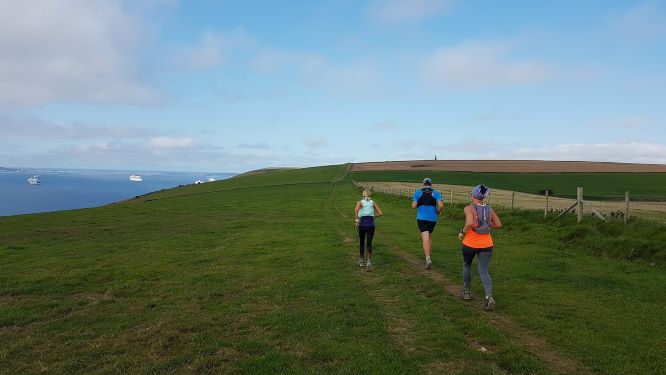 With events starting to take place again in various forms, Eleanor Rollett earnt herself third place at the tough Ooser trail half marathon.
September saw our brand new challenge, Tour de RIOT, draw to a close. Taking place across 10 days, the challenge saw 37 runners compete across 10 stages in a battle to win the coveted yellow jersey. After a tight contest, it was Team 2 who were victorious consisting of Rich Archer, Chris Monteith, Rob Davison, Zoe Rolfe, Keith Horn and Liz Elliott. Additional accolades came in the form of Queen of the Mountain Anne Saunders, Best Newcomer Em Chutter and Best Sprinter David Howell.
The white jersey wasn't Em Chutter's only achievement though; the challenge also spurred her on to complete her first half marathon after her impressive weight loss, well done Em!
This month also saw runners hitting running milestones with Gemma Shone completing her first half marathon and Tracy Watts her first 10km, Graham Smith complete his 100 miles on the bike via a loop of the Isle of Wight and members head to Portland for the virtual Dumble Bimble, a popular community charity run.
A special mention to Claire Carlin, who after having her first marathon event cancelled due to Covid, ending up completing two marathons on back-to-back weekends. Well done Claire on such an impressive feat.
Congratulations are also owed to the following members who took part in the New Forest Sportives: Reni McPhail, Simon Phillips, Clare Bushnell, Rob Kirkpatrick, Claire Brown and Jane Heaton.
Despite there still being a quarter of the year left, several members have now hit the incredible milestone of 1000 running miles so far this year. Well done to Mark Brown, Claire Carlin, Mark Stockman, Malcolm Curtis, Rachel Jones, Anne Saunders and Simon Hill.
Well done everyone!
---
Keep an eye out for next month's blog featuring Adventure Race 3, our new #RunandTalk initiative and many more member achievements.
---