Have you ever wondered who's who in the RIOT committee?


We've had a lot of new people join over the past few months, so we thought this would be a good time to give you a refresher of who is on the committee and what we do, so if you have any questions about anything specific you know who to speak to! Alternatively contact us through Facebook or e-mail ([email protected]).
Amy Mason – Chair


Amy Mason, our Chair, is known for her love of rotas, and is responsible for one of the most important jobs; co-ordinating weekly runs, ensuring they are covered with a lead and tail, that routes are suitable, and you know where you're running! With that role comes development of our Run Leaders skills through training events and enrolment on England Athletics courses, along with recruitment of new leaders. At Weymouth Ironman, RIOT has carved itself a reputation for its lively bike feed station, this is in part due to Amy's hard work helping co-ordinate the station, she also helps arrange RIOT marshals for other local events. But, it's not all about rotas, in the committee Amy is well known for stepping in to "chef-up" at events, from bacon sandwiches to BBQs (and has not yet managed to poison anyone). In 2020, Amy with Carly, will be organising a new monthly RIOT Kids Club, an informal session of running fun and games for the many mini-RIOTers and will be coordinating our Tuesday rota, aiming to bring you a varied programme of sessions. In her spare time Amy enjoys time with family and friends, and her claim to fame in running RIOT is her perfect- pacing in London Marathon (and enjoying it!) and her dubious completion record in a RIOT challenge!
Carly Ings – Treasurer


Carly Ings is our Treasurer so keeps an eye on our accounts and reports annually to members on our expenditure. As with all our roles, Carly does much more than handle the treasury, many of her jobs are often under the radar as she can turn her hand to most things including; website maintenance, setting up booking forms, organising Christmas Party (behind the scenes), creating mailings, Adventure Race support, inputting into challenges and creating the now-famous Festive 24 bauble. Carly also brings the voice of reason to the committee, along with ensuring we adhere to high grammatical standards! However, arguably one of the most important aspects of the club is our Couch to 5km course which Carly oversees, getting new runners to 5km, and beyond, as she sets them up on their running journey with that kind but firm encouragement we've come to know from her. In 2020, Carly will also be working with Amy to organise an informal RIOT Kids session.  Away from RIOT, Carly loves nothing more than a good book but her claim to fame running RIOT is her supporting cheer at events, which can be heard across the globe and her return from running retirement more times than we can count…
Jo McDougal – Membership Secretary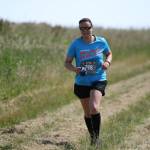 Jo McDougal, our Membership Secretary, is all things membership! With that role comes lots of admin which keeps her busy; queries on claim, affiliations, composing membership mailings, welcome e-mails, setting people up with England Athletics and sometimes some investigative work! However, Jo is more than a Membership Secretary and is also a creative brain who inputs into many of our challenges, but one of her biggest legacies to RIOT is the "Race the Sun" challenge, an idea which stemmed from Jo and is now a much anticipated event within the calendar, bringing RIOTers across the club together. Jo also supports our Couch to 5km group, co-ordinates marshals for events and our parkrun takeovers. Away from RIOT, Jo is well known for her chocolate brownies and her claims to fame in RIOT are her vast collection of medals and her ability to do the splits not once, but twice in a game of rounders.
Matt Ings – Vice-Chair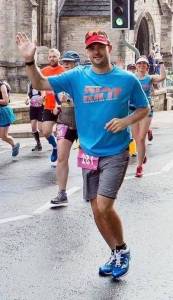 Matt Ings, our Vice-Chair, is known mostly for being the clothing guru, we started with T-shirts and thanks to him now have a full range including; swim hats, dry-robes, tri-suits, cycle jackets and coats, so RIOT can be seen across all disciplines, However, behind that big box of clothing is a driving force behind many things, often behind the scenes, which make RIOT what it is, whether it is RIOT swimming sessions, the Christmas Party, a Coach to Yeovil for RIOT on Tour, British cycling affiliations, bike training, Weymouth Ironman feed stations and local discounts…to name a few. Matt leads our Tuesday speed sessions and keeps our all-important, summer time-trial times logged. Within the committee he is known for a calm, laid-back approach, along with being the one to go to if you need a clever spreadsheet. Matt also helps organise the Adventure Race, with set-up, logistics and most importantly reality-checking Paul when the ideas get a little "too Barkley". In Matt's spare time he can often be seen encouraging others to partake in triathlon and his claim to fame in running RIOT is winging it (and infuriatingly still doing well) and also a little known fact but he came up with the name "Dorchester RIOT" at our inception in 2017.
Paul Danbury – Creative Director


Paul Danbury, our "creative director" is occasionally referred to as the 'pantomime villain' of the committee. Paul makes no secret of the fact that he likes to make a challenge of running and also fully believes running should be a level playing field, these are beliefs that echo through his clever design of our club challenges. Paul designs and co-ordinates a range of challenges from festive 24, Everest Challenge and 230, which aim to encourage members at all levels to mix and get out and run. Paul's most recent idea was the Adventure Race, a treasure hunt with a twist (and some hints of Barkley marathon), this is now a firm favourite event within the club, brimming with the unpredictability and dry humour we've come to associate with Paul. Paul also designed our now-famous (in Dorchester) branding, makes all our graphics, "compèred" our Awards do, works on the website, organises trail runs, night runs and jointly leads our Couch to 5km course. In his spare time he can often be seen completing push-ups and his claim to fame in running RIOT is becoming the fastest committee member in our 1km TT and once topping the Strava weekly mileage leader board.
Rachel Jones – Secretary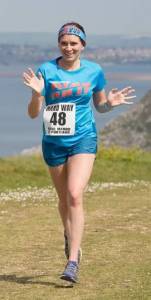 Rachel Jones is our club secretary, and as with all good secretaries she is the backbone of our club. Our resident wordsmith, she is the author of the monthly blogs and is always in tune with our members' activities and achievements, making her a bit of a Strava stalker. Being a competitive sort, Rachel loves nothing more than a Strava crown and a RIOT challenge! Rachel regularly leads runs and is a firm favourite, due to her patience, excellent pacing and unusual directions ("go left at that tree, then straight on past the big bush") especially given she can't tell left from right, but she has yet to lose a group! Her favourite type of run is most certainly an undulating one, and she loves nothing more than sharing this passion with our members by leading our monthly hill sessions, the coastal Pasty runs, Lulworth runs and our night run around Osmington. all of which boast stunning views and challenging terrain. Behind the scenes Rachel does so much for the club, from being the oracle when it comes to race dates, social media posts, posting sessions, funding applications, club VLM ballots, supporting Jo with any membership queries, arranging our committee meetings and making sure actions are completed. Rachel is a kind and thoughtful member of the committee and is often referred to as 'Switzerland' as is always the one to try and fairly resolve any issues that may arise, especially when it gets to a heated debate around challenge rules! In her spare time (which is limited) Rachel enjoys trail running, enjoying nature and more recently swimming and cycling, looking set for her to don the RIOT Trisuit very soon…