Things have quietened down a little for the winter but RIOT have still been getting out and about in the UK and across the globe, running, swimming and cycling. Here is a November round-up with some snippets from around the club, as always these are spotted on Facebook, Strava and results pages, we try to keep our eyes peeled throughout the month but apologies if we have missed you!
An update from your Committee


Our first ever RIOT challenge when we started two years ago the Festive 24 returns. The third edition of the challenge kicks off on the 1st December. Rules are simple, and in a nutshell it involves running three miles or thirty minutes a day from 1st-24th December. For more information visit our Facebook Group and to sign up join the Strava Club. This is a tough one to complete, especially in one of the busiest, darkest and coldest months of the year, but can you beat last years target? or set a bench mark for next year? We will finish with a social run followed by mince pies and bacon rolls on December 24th for everyone, and families, to raise some money for the Rugby Club to thank them for their continued hospitality.
In 2020 we are supporting the Lions 10k and 2k fun run, the date of the event is the 17th May, we're aware that May is a busy month for events, therefore inevitably it clashes with other things, but it would be great for as many RIOTers as possible to pop this one in their diary and support it by running if they can. RIOT Swimming Sessions have started, this includes a mix of coached (with Kate and Paul Mason) and uncoached sessions (to practice) at 1610 in Dorchester. There are still some spaces on the later timed sessions, so if you are interested in this visit the website for booking and details, and keep an eye out on our Facebook Group as some sold-out session spaces come up from time to time. Congratulations to Rebecca Bradley who was drawn by our 2019 RIOT runner Clare as the 2020 RIOT London Marathon entrant, we look forward to following your progress !
Save the Dates:  4th January – RIOT Junior running fun and games; 5th January – 10 mile pasty run from Worth Matravers; 9th January  – New c25k course begins; 13th March – Annual Awards Night at the Colliton Club; 9th May – Adventure Race III; 17th May -Dorchester Lions 10k and 2k fun run.
A reminder, for parkrun and other races it would be great if you can check you are down as Dorchester RIOT (not "RIOT" or "Dorchester R.I.O.T" or another variation), this helps me massively with blog writing and when searching for results.
What have RIOTers been up to in November?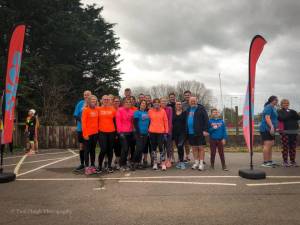 The month finished with the most important event on the November RIOT Calendar, the graduation parkrun of our Couch to 5km Group. They all achieved great results after twelve weeks of hard training and we now look forward to welcoming them to our club runs and seeing where their running takes them next. Thank you also to the RIOT members that volunteered to take over the parkrun rota on the day and to those that offered support throughout the course, we all know that progressing to 5km isn't easy, and we are sure your encouragement meant a lot.
On a rare sunny Sunday a group of 26 RIOTers ran 10 miles from Dorchester to Sutton Poyntz in search of a roast dinner. The Run to a Roast (formerly the Smuggler run), has rightfully taken a spot as a popular annual social club run. The run, included every kind of mud imaginable; trainer sucking mud, slippery mud, solid mud, along with hills, boggy grass, fallen trees and with some even receiving electric fence shocks in some strange places! The run was topped off by a well-earned roast dinner at the accommodating Springhead Pub, well done to all that took on the hard terrain and we look forward to this again in 2020.
If you spotted a flash of orange or some light up headwear in the forest it was probably RIOTers at the White Star Running Dark
Valley 10km and half marathon, well done to Delia Carr, Steve Stone, Dee Brooks, Stephanie Woods, Simon Philips,  Kirsty Eveleigh, Clare Bushnell,  Martin Smith, Frankie, Mark Allwood, Karen Croad, Melanie Orchard, Kerri Oliver, Zoe Rolfe, Laura White and all our second claim members, who were out in force to take on this tough course at night. Well done to Tara and Peter Knight who ran a slippery Run from the Romans in the dark at Ham Hill. Congratulations also to Kevin Moore, Elaine Pearson, Bronwen and Rob Davison who all took on the Endurancelife Lulworth "half", super challenging running with over 4000ft of elevation in 17 miles!
In sunnier climes, RIOT Tourism was popular this month! With some  impressive RIOT on Tour photos, so much so, it is too difficult to pick our Tourist of the Month. Some great running abroad by; Paul and Claire Carlin in Barcelona, Paul Munford at the Las Vegas Rock and Roll half marathon, Martin Mustoe with his PB at Tampa parkrun,  Jamie Trickey in Munich, Martyn and Julie Oliver took a break from foot photos to take their feet on tour in Egypt, Felicia completed two 10k races in Malaysia and did brilliantly on her return to running from injury and Danielle Busnhnell completed the Athens 10k whilst over there to support her husband at the marathon (who also did amazingly following long-term recovery from a knee accident).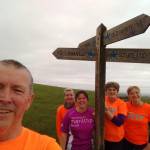 Undeterred by the mud, Wendy Britton, Bella Lowis and Bill Britton took a group of RIOTers on an 11 mile tour of their home turf around Dewlish to showcase some of their amazing countryside views, however, this is England and November and they may have been a little unlucky with the weather, but I'm certain everyone enjoyed the eerie-ness of the mist. Despite the lack of views there was a lesson on Dorset history (thanks to Wendy), some lovely woodland tracks, leg-burning hills and an experience of some new trails, if that wasn't enough, the run was topped off by cake and bacon sandwiches in a local pop-up café. The same weekend (and with the sunshine) a group went to Studland for the Trust 10, a free monthly 10k run with views out to sea and of Old Harry Rocks, as always with the views comes the hills and it is some challenging terrain, but well done to all that ran, you looked like you enjoyed yourselves.
Special Mentions: Claire and Paul Carlin for 10km PBs at the London Mo 10k. Dave Parry for a Podium Placing (2nd) at a British cyclocross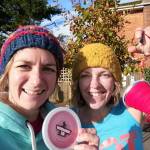 event at Escot Park. Simon Fowler for third place at Sherborne Comunifit 5km. Chris Peck for achieving the Wendover Woods 81k. Wimborne 10 was awash with some amazing PBs from Tina Usher, Bella Lowis, Martin Smith and Kirsty Eveleigh, along with many of our second claim members, congratulations to everyone who achieved PBs at that and at Boscombe 10k, some brilliant achievements. There has also been some great running away from races, well done to David Howell and Mel Orchard who both achieved 10km and 5km PBs on the streets of Dorchester and Weymouth this month!
Parkrun PBs Well done to those that got PBs across all parkruns but congratulations to Janet Brown, Shelley White, George Peters, Simon Phillips, Charlotte Roper-Brown, Mark Brown and Peter Knight who all got PBs at Weymouth parkrun this month. Apologies if we've missed anyone, we search by club so double check yours if we've missed you.
Tuesday Sessions for December: 3rd December: Off-road night trail with Paul; 10th December: Hills with Rachel; 17th December: Speed with Matt; 24th December: Final Festive 24 run (morning); Monday 30th December: Off-road coastal path night run from Osmington with Rachel. Details and meeting places to be posted on Facebook nearer the event.
Good luck with all your December events, Festive 24 and Christmas party hangovers! Our next blog will be our 2019 highlights, but if any RIOTers fancy blogging about events they take part in then just get in touch.