It's been a busy few months and we apologise for the lack of blogging, things just got a little busy, I know we've missed lots. For those who are new to the club, we've tried to do this on a monthly basis, we don't cover every event or result, but aim to give a snippet of what's been going on around the club.
An update from your Committee!


Blogs, help us keep up-to-date, let us know if there's anything you want to highlight that you think we may miss, join the members RIOT Strava Club, set your club to Dorchester RIOT when you enter races so we can spot you, and keep on posting your medals and achievements in the Facebook Group and on Strava. We try to keep an eye on everything but sometimes we do unintentionally miss things.
New additions to the shop! There's been some demand for technical, lightweight, running tops, so these are now available to buy on the website, along with swimming hats, embroidered jackets, cycle jerseys alongside the original RIOT range, we can also get RIOT tri-suits too.
We don't want to mention Christmas… but it's fast approaching, so we've been planning our Christmas do, after a great time in 2018, we'll be heading back to Kingston Maurward on 7th December, this time we have reserved the whole room. Don't miss out, book your tickets for the event!
Inspired by our RIOTers? Then join us! Couch to 5k is back on Thursday 12th of September. Spread the word and if you want to join us sign up on the website.
For those that are new to the club, and on Facebook, along with the active Facebook Group, we also have a Cycle Group and Marathon Training group (the latter will become more active in the new year when people begin their spring marathon training). If you are not on Facebook, we try to post things in the Strava Club (remember anyone can post if you want to ask questions or arrange something) or contact us if you want to know more about any training.
A Recap!


A lot has happened since the April Blog, we've had our second adventure race (well done to Brian, George and Rob Kircher-Smith who won and thanks to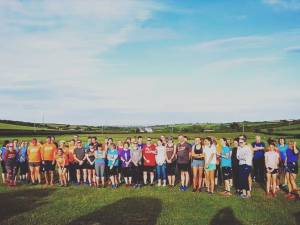 Liz for hosting us), the Race the Sun challenge which was kicked off by our Man and Woman of Steel (Martin Ings and Dee) and finished with a Rugby Club Social and BBQ. We've had some scenic Thursday and Sunday runs, tough Tuesday sessions, Trail Tourism runs and even a team taking part a charity Volleyball competition!
Within the club there have been big achievements across all disciplines and distances from 5k to 100k! With a wave of orange and blue at a number of events, some as far afield as Malaysia. Well done to the RIOTers that hit milestone distances in their training with first 10k, half marathons and marathons. There have also been some big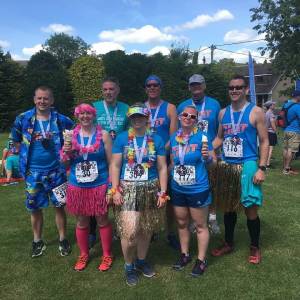 PBs, most notably at the Poole Festival of Running which was a sea of blue, but also at parkrun and other trail and road races – a testament to the hard training you have all put in.
RIOTers haven't shied away from trail either, tackling the Sydling Hill Race, Lulworth 10k, Charmouth Challenge, Colmers Hill Challenge and some events in fancy dress; the Moreton Unicorn Frolic (with some great distances covered) and Giants Head Marathon.  In endurance events there have been some amazing ultra-distance achievements; 100k,  50k and 50 miles along with swims (pier to pier), cycle events (Coast to Coast and Sportives) and triathlon achievements.
Remember, you can follow your fellow RIOTers in the members Strava Club (if privacy settings allow), RIOT Group Chat Facebook group and by following our social media feeds on Instagram and Facebook.
What have RIOTers been up to in August?


August has been the month of the triathlon! Hot on the heels of the early summer achievements of triathletes Martin S
(Ironman Canada, with a few 70.3s thrown in for good measure!) and Alanna (who achieved her first 70.3 in Staffordshire), other RIOTers smashed Ironman events, completing the inspiring distance on tough courses. Mark W achieved his first 70.3 at Ironman Calgary and, despite having mist and mountains thrown at them, Matt I and Dee finished Dun Laoghaire 70.3, cheered on by the Ings family, Paul P and Rosie. Well done also to Clare B, Kirsty E, Matt B and Alex D, who have also had some amazing results at a range of triathlon events following their hard work training. These achievements are inspiring for the group taking on the Bustinskins Classic, Sprint and Ironman Weymouth 70.3 next month (if you want to volunteer at the latter then get in touch), we look forward to seeing what September brings for you all.
We were all in awe at the RideLondon group, who tackled the 100 mile distance, well done to everyone who took part! Amy, who though it didn't go completely to plan, kept on going to cross that finish, Clare for coming back and hitting her goal and Robin and Paula who both got course PBs. A special shout-out also to all those who completed their furthest cycle at the event; Alanna, Carly, Clint, Sadie and Emily W, what an achievement!
After a showery start, a group of runners took on the Dorset Doddle, a grueling (but scenic), 32 mile walk / run from Weymouth to Swanage with nearly 6000ft of elevation! Many achieved their first ultra-distance; Malcolm, Anne, Charlie, Sue, Tamsin, Matthew S, Steve H,  Charlie, Paula, Kirsty and Mags, well done also to Paul D who surprised us all by making an appearance at his second event for RIOT and completed a tough 18 miles with minimal training, and Brian, Lucy and Elaine who all completed it in amazing times despite having run big distances (50-60 miles) earlier in the spring and summer.
RIOTers appeared at a range of other events; congratulations to Scott C who came 6th, and completed his furthest distance, at the 16 mile Puretrail event, The Great Escape, Scott has been working hard at hills in preparation and it certainly paid off.  Stephanie who felt that 10 miles wasn't enough at the Clatworthy Reservoir runs, running the second 5 mile event at dusk! Mark who finished a half marathon in Canada, Conquer the Ridge, in high temperatures, dodging Rattle Snakes and well done to Liz and Dee who completed the Bath Two Tunnels events. RIOT also made appearances at local events; Stur Half and Round the Rock 10k – special mention to Rob S who did the latter complete with tutu!
Along with some RIOT attendance at other parkruns, there have also been some great weymouth parkrun PBs this month (so far),
well done;  Paul G, Gary, Martyn, Delia, Jorden, Mark B, Julie W and Kirsty E and great to see Lorna, Liz C, Esther, Janet and Matt B who all attended their first parkrun (help us spot you in the results by setting your club to Dorchester RIOT – if you are first claim with us). RIOT on Tour! We've seen some great RIOT on Tour posts, with Jim W on Tour in the Loire Valley and two runs from Canada; Martin S ran with Whistler Mountain as a backdrop, whilst Mark W got lost near the airport! Paul P's forehead went on Tour in Ireland whilst supporting Ironman but the RIOT Tourist of the Month goes to Gunnleyg, Richard and family with some beautiful "on Tour" shots from their runs and cycles in Switzerland and France!
We are aware this is going up before the end of the month and there are some big events this weekend, Brutal Ironmans, UTMB and the Bustinskin triathlon, but we look forward to reporting on these in the September blog, good luck to you all with your upcoming events!
Thank you to Paul Haigh Photography for the amazing "Featured photo" from a trail introduction run lead by Keith.