Well… where do we start? It has been a busy month, starting with the RIOT awards and ending with Yeovil Half Marathon takeover, with lots going on between. Apologies if we've missed anything, but be sure to join our Dorchester RIOT Group Chat Facebook Group and members Strava Club to follow all your fellow RIOT members achievements.
An update from your committee…
You should have now received an e-mail with details on how to renew membership for 19/20, if not, then please visit the membership page. Thank you to everyone who as renewed so far and also for your patience as we process renewals and respond to queries at a busy time of year. A reminder to those members who joined between January and March you do not need to renew as your RIOT membership and England Athletics affiliation will take you to March 2020.
Have you ever entered a race without knowing the location or start time? No? Well, here's your opportunity! Building on from the fun of the first adventure race (read more about the first event here), we wanted to do it all over again, so we bring you the Adventure Race 2.  We would like as many of our members and their friends / family to get involved as possible. This is suitable for different levels of runner from Steady group to Speed, as it is not all about pace! Enter as a team of three, or as an individual and we'll help with teams nearer the event.
We want to say a massive thank you to the Dorchester Casterbridge Rotary Club for awarding us a grant for a gazebo from the Marathon Small Grant Scheme (using funds raised from the 2018 Dorchester Marathon and Casterbridge Half, which many of you supported). It will be great to have a gazebo base for our own events and to be visible at running events for you all to see and shelter under.
Want to learn more about how to prevent injury and run more efficiently? Well, we still have some spaces left on a RunTeach Resilient Runner Workshop on Saturday 8th June (11-5pm), but we expect them to go quickly, so recommend getting booked up if you wish to attend.
Lastly, people have been asking what colour tops to wear to events, we are not strict on this but it is often nice when you see a "sea" of the same RIOT tops, therefore in general blue tops are our racing tops with the orange being good for visibility on club runs.
What have RIOTers been up to in March?


A tale of two halfs… (well, more like seven)
Reading, Bath, Weymouth, Yeovil, Ooser, Forest of Dean, London Landmarks Half….an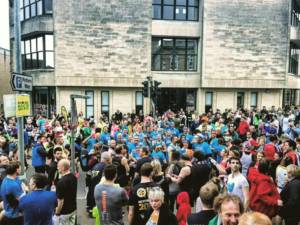 d possibly more, March was certainly the month of the half marathon! The RIOT turn-out was big at some of these events and there were some amazing half marathon PRs, with many running at Weymouth or Bath then beating their PB a few weeks later at Yeovil.  A big well done to everyone who ran, and to those who got PRs on these events, it's a testament to all the hard work and effort you've been putting in with your training and the support you gave each other on route.
We'd like to give a special shout-out to those who smashed their first half marathon events this month; Paul Gardener, David Howell, Julie Oliver, Martyn Oliver, Laura White, Helen Cooper, Tan Reed, Nick Guppy and Sam Trim. Many of those individuals graduated from Couch to 5km in 2018 and are an inspiration for our recent graduates. Special mentions also to Carwyn Lewis who knocked 40 minutes off his previous half marathon event time and completed Yeovil in 1:26, Helen Cooper who not only completed her first half at Weymouth, but supported Martin Ings round the event running with him every step of the way, and lastly to those who volunteered their time to marshal and support.
Toughest of the trail
Our members have also ran some tough trail runs through March! First up were the Larmer Races, with RIOT represented at all events including Dark Larmer, Lamer 10 (with a number of RIOTers completing the Imperial Series and El getting an Imperial series age category prize), Larmer 20 and Larmer Marathon, these are not easy runs and those strong winds on Sunday made the tough running conditions even tougher!
On the same weekend there were rumors of a rare sight near Seaton…a certain Paul Danbury warming up on the start line of an event, it has only taken 18 months, but Paul finally completed his first official event for RIOT, running the Cub. There was also a group of RIOTers running the Grizzly (shout out to Mark White who did this the week following a solo first marathon), both the Cub and Grizzly races certainly lived up to their infamous reputation, with pebbles, bogs,  slippery mud, hills and rivers, we think we've just about recovered! Lastly, whilst many of us were pounding the streets of Yeovil, one of our members was quietly completing his first marathon, huge congratulations to Rob Kirkpatrick for finishing the hilly Doset Ooser marathon, a tough, but scenic, choice for a first.
From Paris to Munich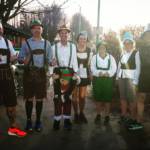 Last year teams of RIOTers ran a virtual relay from Dorchester to Paris, this year eight teams of seven made the 523 mile journey from Paris to Munich for the first RIOT challenge of the year! There were times when it looked like Team Mercer or Jase were on for the win, but Team Malcolm quietly snuck past them all somewhere on the edge of the German border. Though it was still tense from this point on, with tactics (and some very long runs) they were unstoppable, making them the first team to arrive in Munich. Each of the team of seven runners ran on average 5 miles a day, completing the journey within 13 days, well done to the team; Malcolm, Gunnleyg, Emily Wiltshire, Martin Mustoe, David Howell, Laura White, Michael Paulley and Matt Beaven.  Team Jase was not far behind, and was rapidly followed by the remaining teams, but Team Steve, who, despite showing some signs of a comeback, were the last to arrive and ended up in some very well-thought out Lederhosen costumes on a club run. Well done to all the members who took part!
Couch to 5km graduation and parkrun takeover
Our amazing couch to 5km graduates smashed their graduation parkrun this month. They have trained very hard through the worst months of the year for running, in ice cold, in rain, in gales, in storms and in the dark! We hope they'll be rewarded with some enjoyable sunny,  light runs and we look forward to welcoming them on a Thursday night. Thanks to all the RIOTers who came out to support our graduates and also offered their time to volunteer at the second of the RIOT parkrun takeovers, where we take over the regular volunteer roles, read more about the event on a great blog written by Rosie, thanks again to Darren G for coordinating us.
Other special mentions:
Jase, supporting Bev, completed the Jurassic Coast Challenge, this involves the completion of three marathons across three days, no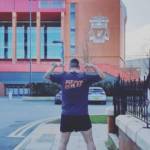 mean feat in itself, but these are along the coast path so consist of tough running terrain including 10,000ft of elevation gain! Nice running by those attending Wimborne 20 in a storm, some achieving their furthest distance so far Wendy, Steve, Mel, Sally, Brian, Eleanor, Geoff, Martin and Frances. Lastly, well done to Tina Usher who joined our long Sunday group run achieving both her furthest run ever of 20 miles and a half marathon PR! RIOT Tourists of the month got to David and Kim who wore their RIOT T-shirts when they fitted in a run whilst visiting Liverpool and Anfield Stadium! Finally, April is the month of the marathon and we would like to wish everyone completing their first marathon this month the best of luck!